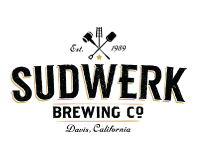 Davis-based Sudwerk Brewing Co. has been a longtime staple in the greater Sacramento craft beer scene. Originally, they were a German-style brewery, and under new ownership has expanded their offerings. They offer a variety that ranges from traditional to innovate. They are truly a west coast staple. We recently received a delivery with some great one-offs.
Some notable  specialty beers that came in from Sudwerk are their Imperial Baltic Porter, a strong porter which is more of lager's answer to an imperial stout. Their Funke Hop Farm is an American-style saison using oats, wheat and ferments in various wine barrels with Brettanomyces. This beer tastes like spring, even if El Nino is still going strong. We're also excited for the Small Batch IPL (India Pale Lager), a lager dry-hopped with Galaxy, Amarillo, and Mosaic. Lots of citrus, and fruity notes. Uhhh yum!
Don't miss out on these releases, call your rep today!